We take pride in every aspect of our business and believe that first appearances count for a lot. When we first started, we set out in creating a bespoke brand, unique to us. All of our labels are designed and created especially for us, branded with our logo.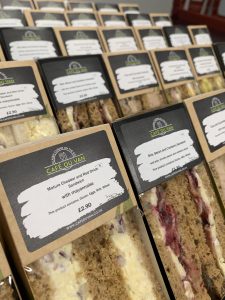 It was crucial that our branding highlighted our unique selling points of superior quality and convenience. We also wanted it to easily differentiate us from any other catering companies around. Working together with the graphic design team from Wessex Labels we really have been able to bring our ideas to life and create a brand that is fresh and innovative.
The look of our packaging was achieved through Planglow Ltd. and with their help and guidance we feel we have created a product that not only tastes great, but looks the part too! By buying our products from Planglow, not only do you get a lovely bite to eat but we also get to do our bit for the environment. Let's explain… Firstly, the packaging is made by paper mills that manage sustainable and renewable plantations, this means that no old growth forests are used. Secondly, the packaging is lined with a home compostable film which is made from plants, not oil and can be grown again. That's not all…the carefully chosen materials mean that all of the packaging is fully biodegradable and compostable, even the window! Helping us to do our bit!